January 9th, 2019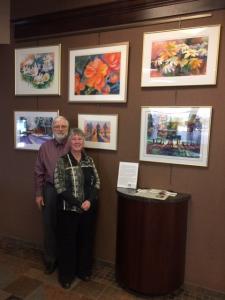 We hung a new watercolor exhibit today in Monticello, MN. Very colorful and the staff was excited. Exhibit is up Jan - March 2019.
These paintings were originals, but most of the images have a FFA connection - where a variety of printmaking can increase the size or be on cloth, shower curtains and so much more.
January 8th, 2019
Hi friends

https://www.hometownsource.com/morrison_county_record/little-falls-artist-discovers-a-world-of-watercolor/article_a10fe8dc-111f-11e9-82ef-7f4ea9a480df.html

This is a link to a nice story in the Morrison County Record, a Little Falls, MN newspaper...... about Kathy Braud, artist.
I thought you might like to view. Just got the link today! Kathy

October 1st, 2018
I belong to a wonderful group of artist folks who come together once a year for a Paint Out. We book a bible camp facility a year ahead and come use the camp when the kids have gone back to school. The artists' enjoy the get together of wonderful meals we do not have to cook. And we spend social time together. Indoor cabin rooms provide for rest. You bring your own bedding and pillows, etc.
As a group we each easily paint 8 hours or more. Those who want to paint in plaine aire have many options of local parks, roadways, lakes and farmlands to enjoy. Those of us who wish to stay inside, out of the weather, make the most of a great hall with wonderful light and tables. We are so fortunate to be able to share our artistic talents together and sometimes even learn new art making methods .
Consider a "paint out" experience as a wonderful possibility! You might be surprised how enjoyable it is.

October 1st, 2018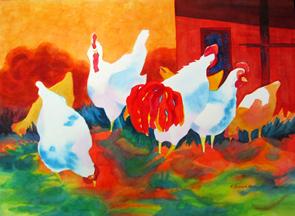 Sprout Growers & Makers Marketplace, Little Falls, MN commissioned me in May, a watercolor artist living in Morrison County, to participate in making this creative project in this unique community setting. The one of a kind art would allow for increased conversation and appreciation of diverse cultural heritage in this indoor winter marketplace setting for growers and makers.
My project is five original watercolor chicken paintings 22 x 30 images and are framed for the viewer's enjoyment. Project completed by September 2018.

October 1st, 2018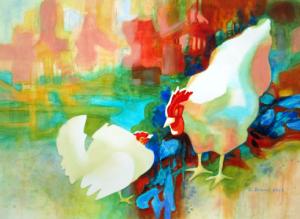 Kathy Braud Art, Ruffled Feathers 5, Was Accepted Into The 2018 NorthStar Watermedia National Juried Exhibition

Little Falls, MN - August 2nd, 2018

The 2018 NorthStar Watermedia National Juried Exhibition will be on exhibit Sept 10 – Oct 18, 2018
at the White Bear Center for the Arts, 4971 Long Ave., White Bear Lake, MN.
Kathy Braud's watermedia painting, Ruffled Feathers 5, is included in this show.
Kathy attended the Artist Reception and Awards Ceremony – Thursday, Sept 13, 2018 6:30 – 8:30 pm

October 1st, 2018
Kathy Braud got confirmation that her art, Ruffled Feathers 4, was accepted into the Minnesota State Fair 2018 Fine Arts Exhibit!
This exhibit will be on display at the Minnesota State Fairgrounds, Fine Arts Building, Aug 23 – Sept 3, 2018.
Preview night is Tuesday, Aug 21, 7 - 9:30 pm – Free event.
We went to the Preview Night -- at the Minnesota State Fair Fine Art Exhibition on August 21, 2018.
Kathy Braud and friends attended the event and enjoyed the social opportunities of talking to friends from all over the state.
And My art was displayed beautifully on the wall and in the light!
March 31st, 2018
This painting, Bold Lilypads, by Kathy Braud RRWS
was accepted into the Red River Watercolor Society's 25th Annual National Juried Watercolor Exhibition - June 2018
Displayed at the Heritage Hjemkomst Center, Moorhead, MN June 18 – August 4, 2018. Reception is June 19th 6 – 8 pm, awards at 7 pm.

Jury reports just came in today! Mark Mahaffey , juror.

Hi Friends, just sharing the news! Pretty neat! Those art events keep popping up. Yours in art! Kathy

February 21st, 2018
My latest exhibit is on display in Central Minnesota.
Minnesota State College at Fergus Falls, MN is hosting my exhibition Jan 8 - March 1, 2018
Hours are: 8 am - 4:30 pm M - F

One can view 44 colorful originals.... in good lighting. Half of the exhibit are full-sized paintings on 22 x 30 paper which
grow with mats and frame to 28 x 36. Many are award winning pieces from my participation in exhibition shows,
such as the Minnesota State Fair Juried Show and the NorthStar Watermedia Society National Juried Show and others.

Kathy Braud RRWS
kathy-braud.pixels.com