June 2nd, 2017
A lovely reception was held at the Franklin Arts Center, Brainerd, MN on June 2, 2017 for the Arts group - Crossing Arts Alliance. The lovely Salute to the Arts exhibit display, open to the public and members of this organization was enjoyed. Also social mingling, conversation with food and drink made for a fun evening!

My Salute exhibit offering was Shadow Abstract Bloom. It is in a square frame and off white mat. $350


May 23rd, 2017
5/19/2017 I am Kathy Braud RRWS, a Central Minnesota watercolor artist. I have enjoyed my journey of creating art, exhibitions, juried art shows, art fairs, sales and do have a worldwide presence on the web with Fine Arts America. Many workshops has yielded me instruction to understand how to make a better painting, paying attention to important details of line, color, shape and the principles of design. I choose to make value studies, focus on light, middle and dark values and interlocking shapes. The sharp contrast of dark values against the path of light do make my paintings very bold and dramatic. Even arranging different colors together can produce exciting mood changes. I feel my function as a painter goes beyond recording an event with the accuracy of a camera, but instead, feel I am capturing a mood, memory, or am describing a pleasure which enriches my spirit. One of my goals in my paintings is to have fun, be enthusiastic and share this impression with you. www.kathy-braud.artistwebsites.com

A photo of me, see attached - standing near my art display in the Fine Art Building, MN State Fairgrounds!
How did I started?

I have always enjoyed art, even as I went about becoming a nurse. When my oldest child left the nest, I filled the hole, took a long workshop and fell in love with watercolor. Since then I try to take at least one workshop per year and enjoy attending the NSWS demo's available to us.

A description plan of my demo -
I plan to use the new YES canvas, with a surface like hot press paper to paint on. I will use watercolor media to paint a colorful floral painting and explore and manipulate this new surface. I had a Showy Lady Slipper to show visitors.
After the demo is at home, coats of acrylic clear coat will be added to protect the canvas after the painting is finished. The art painted on the YES canvas can be hung with a wire without additional framing. I am eagerly awaiting painting on the canvases so I can have playtime!

May 16th, 2017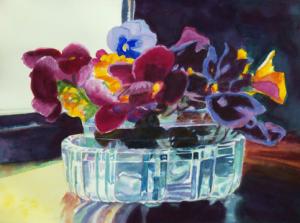 The April 20, 2017 Awards Reception for the North Star Watermedia Society was held in Mahtomedi, MN this year.
Kathy Braud was surprised with a Merit Award for her floral watercolor painting "Pansies in a Crystal Vase".
This beautiful large exhibit of watermedia art was on site from April 1 - 30, 2017,

The NSWS organization will soon be hosting an art show and sale called Artist Market at the Fine Arts Building at the Minnesota State Fairgrounds.
Come meet Kathy and view her art and check out almost 100 other artists on this weekend of May 19 - 20 -21, 2017, Open 10 am - 6 pm on Friday and Saturday and 12 - 4 pm on Sunday. Kathy will be giving a demo there on Friday from 1 - 2 pm under the big mirror. Multiple free demos will be offered each day over the whole weekend. There is no admission fee either. Come join us! Rub elbows with artists.


May 16th, 2017
Today Jim, my husband, and I attended the M-State College 45th Invitational Art Show in Fergus Falls, MN. I had a great time visiting with other artists and family. My original watercolor work, Tulip Bed at Dark, had been awarded a Merit Award! And the college will also purchase the painting! It was an exciting day!
The check came today! It is real! .... not a dream!
January 18th, 2017
Congratulations to the 40 participants being featured from across the state of Minnesota,who were accepted into this year's 17th Annual Essential Arts Exhibition & Celebration.
Sponsored by Visual Arts Minnesota, St. Cloud, MN this display is on display at the Paramount Center for the Arts, St Cloud, MN. January 19 - March 5, 2017. Six artists working in 2D and 3D, will have their works be recognized for awards
.
Essential Art is a showcase of mature artwork selected by curator Tricia Heuring. The exhibit is a theme-less exhibit that explores the dedicated practice of our community's creative producers. "Being the sum of a hybrid identity, Tricia Heuring is drawn to relate to diverse peoples and situations and a belief that by accepting our own complexity, we find depth and common ground with others." In difference, the Essential Art exhibition discovers cohesive forces in the space between varied artworks.

The Reception and Recognition Ceremony for Essential Arts will be held Saturday, January 21, 2017 from 6:00 pm to 8;00 pm., 913 W. St. Germain St., St. Cloud, MN 56301
In addition to small treats and chatting about art, there will be a unique performance by the Minnesota Dance Ensemble and the Wirth Center for Performing Arts with a live digital illustration by Jesse Switters following the reception on the Paramount stage.



January 2nd, 2017


Artist del Norte presents the 2016 Northern Showcase. You are invited to come enjoy this exhibit.
It will be held at the Blaine Government Center. 10801 Town Square Drive NE, Blaine, MN
The show images are new work done within the last 2 years and 2 D and 3D art will be on display.
Show extents Oct 31 - Nov 25, 2016. Blaine City Hall is open 8 am - 8 pm M-F.
Sat. Nov 12 - A reception and an awards ceremony will take place 2 - 4 pm.
Any sales will be made with the artist. Information to make contact with the artist will be available.

Besides the painting displayed in this entry, My other watercolor entry, "Hibiscus Blossums," was awarded a Blue Ribbon at the Awards Ceremony Sat. Nov 12, 2016
December 10th, 2016
I, Kathy Braud, have been promoting my watercolor artwork to the public weekly in this art promotion for this whole year. I hope you take a moment to check that site out in our FAA gallery choices at the top of the page. This promotion allows the public to buy a canvas print (only) at a substantial discount and usually includes a choice of 3 images. It is a timed event and offers a limited amount of paintings. You are welcome to check out the prices against my normal prices on my website.