January 18th, 2017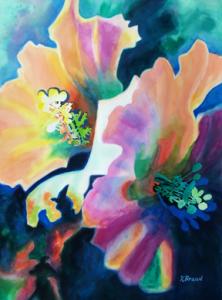 Congratulations to the 40 participants being featured from across the state of Minnesota,who were accepted into this year's 17th Annual Essential Arts Exhibition & Celebration.
Sponsored by Visual Arts Minnesota, St. Cloud, MN this display is on display at the Paramount Center for the Arts, St Cloud, MN. January 19 - March 5, 2017. Six artists working in 2D and 3D, will have their works be recognized for awards
.
Essential Art is a showcase of mature artwork selected by curator Tricia Heuring. The exhibit is a theme-less exhibit that explores the dedicated practice of our community's creative producers. "Being the sum of a hybrid identity, Tricia Heuring is drawn to relate to diverse peoples and situations and a belief that by accepting our own complexity, we find depth and common ground with others." In difference, the Essential Art exhibition discovers cohesive forces in the space between varied artworks.

The Reception and Recognition Ceremony for Essential Arts will be held Saturday, January 21, 2017 from 6:00 pm to 8;00 pm., 913 W. St. Germain St., St. Cloud, MN 56301
In addition to small treats and chatting about art, there will be a unique performance by the Minnesota Dance Ensemble and the Wirth Center for Performing Arts with a live digital illustration by Jesse Switters following the reception on the Paramount stage.



January 2nd, 2017


Artist del Norte presents the 2016 Northern Showcase. You are invited to come enjoy this exhibit.
It will be held at the Blaine Government Center. 10801 Town Square Drive NE, Blaine, MN
The show images are new work done within the last 2 years and 2 D and 3D art will be on display.
Show extents Oct 31 - Nov 25, 2016. Blaine City Hall is open 8 am - 8 pm M-F.
Sat. Nov 12 - A reception and an awards ceremony will take place 2 - 4 pm.
Any sales will be made with the artist. Information to make contact with the artist will be available.

Besides the painting displayed in this entry, My other watercolor entry, "Hibiscus Blossums," was awarded a Blue Ribbon at the Awards Ceremony Sat. Nov 12, 2016
December 10th, 2016
I, Kathy Braud, have been promoting my watercolor artwork to the public weekly in this art promotion for this whole year. I hope you take a moment to check that site out in our FAA gallery choices at the top of the page. This promotion allows the public to buy a canvas print (only) at a substantial discount and usually includes a choice of 3 images. It is a timed event and offers a limited amount of paintings. You are welcome to check out the prices against my normal prices on my website.

September 23rd, 2016
Hello! Greetings! I am home now from a long paint-out week in Amory, WI with a large group of artists. We totally enjoyed the ammenities of Camp Wapagasset - great food and dining hall, social opportuities, great dormitory areas and large painting area. And for the ones who like to paint en plaine aire - lots of great scenery! The leaves started to fall while we were there too!

It is so nice to have social and informal time to also connect with our friends while they work on their favorite art work. Sometimes it is a "hang out and learn!"

I am grateful to my many art friends who gathered from far and near places so they could attend this time together and be nourished. Kathy



September 23rd, 2016
Little Falls Arts and Crafts Fair is really close now! This weekend! 125,000 people s expected, many new venders this year..

I have posted a couple of photos to show my stand and how the area looks.
There is more decorating to do and am bringing a few more watercolors, unframed, for the clients to view, if wanted.
I have blank greeting cards with images of my art and that appear to be self matted when placed in a 5x7 frame.
I also have decorated gift packets of 3 cards that is priced at $14.50 + sales tax. - handy. Many topics.
Always fun to visit with folks as they move about the room!

Follow up: We had a great time & lots of visitors to our Pop Up Store!
Many people had a great time viewing my work up close and seeing many pieces that were framed.
My Dandy Puff (watercolor / acrylic) caught much interest!
I also have many sizes of unframed, un-mated watercolor works on hand also to be enjoyed and purchased.



August 30th, 2016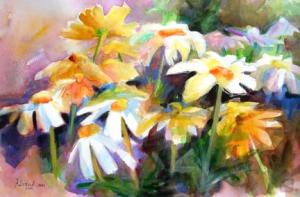 The Shoppes of Little Falls will have their doors open to the 2 day Arts and Crafts Fair in the streets of Little Falls, MN. This huge event goes from 8 am - 6 pm on Saturday and 9 am - 4 pm on Sunday. It draws 100,000 people. The Shoppes is a new large pop-up market that has 42 venders at the moment and is protected from the weather in a newly renovated 8000 square foot brick downtown building. We are now open 7 days a week - Our usual regular hours are 10 am - 6 pm Monday - Saturday, and 12 - 4 pm on Sunday.

Wonderful delightful pieces of jewelry, clothing, furniture, creations, art, kitchen and bedroom and decorating items with great workmanship. Kathy Braud, watercolor artist, has a presence here also and you have a chance to view many of her displayed original paintings. Greeting cards featuring her original images are available as singles or a group of 3 gift wrapped for easy Christmas giving or for a friend gift. We will have a Bloody Mary Bar to quench adult thirsts also and a porta potty available. Come visit us at the Shoppes of Little Falls, 102 1st St SE, close to Bank Square in downtown Little Falls.
August 15th, 2016
Kathy Braud late Spring and Summer Activities 2016
I had a watercolor display and sale of original watermedia art at the NorthStar Watermedia Society's Artist Market. This 2 day event was held at the Fine Art Building at the Minnesota State Fairgrounds in St. Paul. This year, I was chosen to be a demo artist under the big mirror. This is always an experience!
Over the summer, my watercolor group, Central Minnesota Watercolorists, lined up a variety of group exhibitions in St Cloud, MN. We displayed art at CentraCare Health Center, St. Cloud Hospital, Great River Regional Library and now are exhibiting at the Paramount Art Center till September 26.
I am also exhibiting at the Whitney Senior Center until the end of September.
Great River Art Center in Little Falls displayed a nice amount of my medium sized framed works for a month in their Gift Gallery.
Crosslake Art Club hosted a wonderful co-operative venture in the lakes region north of my home. Their art group put on the 32nd Art Show of original art for sale. Gift gallery works included some small prints and cards. It was delightful and so interesting to see the variety of art on display. I had the opportunity to display a great variety of new card images that are not on my FAA site.
The Shoppes of Little Falls is a great new business venture in our city. It is a pop up business in a newly remodeled century old brick building. After hours of construction and volunteer labor, the owners were able to adapt this 8000 sq.ft. building to become a large lovely room with high ceilings of tin type metal and colorful paint décor on the walls. I am one of the many vendors sharing this large open space. We have one employee and many vendor volunteer hours that helpers donate to this endeavor. We are making this former empty building in our downtown to be interesting and accessible to tourists and our community. Soon the Arts and Crafts Fair coming up the second weekend of September will bring about 100,000 people to Little Falls, MN. We are also hoping they will come off the street and join us in the coolness of our store.
Sprout Market is new and growing in our community. It is a grouping of food and non- food venders displaying their wares in an indoor market at the Crestliner Warehouse, 13th St. NE, Little Falls. Attendance is free to visitors, is a destination event and a place where one can see wool being spun, candies, art, jewelry, wood work, live music, garden, frozen meat and baked foods to name a few. The August 20, 2016 event is open 10 am – 4 pm. Your presence is welcome!
The Red River Watercolor Society National Watermedia Show in Fargo, ND is over at the Plaines Art Museum September 4. It is a beautiful show and so full of lovely artwork.

May 24th, 2016


Jim and I attended the Red River Watercolor Society's 23rd Annual National Watermedia Exhbition at the Plains Art Museum, Fargo, ND last evening. It was a beautiful show and several of my friends recieved awards for their wonderful paintings. I had my chicken painting displayed there - "Four Clucks" and it looked very beautiful on the wall with great lighting throughout. We had a nice reception and awards ceremony and enjoyed celebrating all the energy that was generated to make these wonderful entries. The show is up until Sept 4, 2016. Thank you for your support of me and my art! It is fun to be included and recognized in this nationally acclaimed show.
May 1st, 2016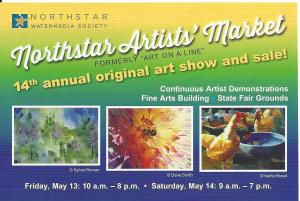 Hi to all art lovers, artists and folks who would love to be able to create! You are invited!
We have a wonderful event coming up in 2 weeks. Northstar's Artist Market!

I, Kathy Braud, will be doing a demo at 6 pm Friday evening as part of their continuous demonstrations offered during the market. Easy driving access, free parking, free demos, free admission and a chance to win door prizes, I hope you can come on over to visit us at the Fine Art Building at the MN State Fairgrounds. Invite a friend!

There will be artists everywhere to talk to and share thoughts. Open Friday, May 13, 10 am - 8 pm & Saturday, May 14, 9 am -7pm .
My chickens, Four Clucks, are featured on this postcard and that painting will be in Fargo for the RRWS National Watermedia Exhibition
May 7 - Sept 4, 2016 at the Plaines Art Museum.
The original art found at Artist Market can be small or large, framed or mounted, cards and you will see a wonderful variety of images and styles.
(Northstar Watermedia Society - Minnesota)